Zoom H4n Review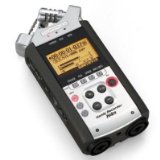 Article From:
Brad Linder's blog: Zoom H4n review 
http://www.bradlinder.net/
The Zoom H4n digital audio recorder is Zoom's third handheld flash memory recorder. It's the most expensive of the bunch, but it also features the best build quality of the three and is much easier to use than its predecessors. The sound quality is also pretty good, although you can achieve higher quality recordings with more expensive equipment. Still, for about $350, the H4n might appeal to a wide group of audio recordists, ranging from people who are looking for a cheap recorder that can power condenser mics that require phantom power to those who just don't want to shell out $450 or more for a recorder that offers only marginally better sounding recordings.
In addition to sturdier build quality with a rubberized grip, the H4n has larger, easier to manipulate buttons on the front of the unit. And the menus are much easier to navigate using the menu button and jog dial on the side of the unit than on the original Zoom H4. You can also rotate the internal mics to change the audio pickup pattern.
I do wish Zoom would start using a separate button for making track marks. Right now in order to create a new track while recording, you hit the record button again, which can be confusing -- especially because you need to hit the record button twice to start a recording in the first place (the first press puts you into record/pause mode).
The Zoom H4n also has a speaker built into the back of the unit.
It's not going to replace your book box anytime soon, but it comes in handy if you want to check your audio or play a clip for someone on the go. You can certainly use the speaker to play music as well - it's just not going to sound very good.
But there is one major problem. It's far too easy to eject the SD card from the slot by pressing on the door that protects the compartment. And if you accidentally eject the SD card while making a recording, your data will be lost. I'm not saying that it's likely you'll eject the SD card, but it's possible. And that concerns me.
Like the original Zoom H4, the Zoom H4n has a number of features that really set it apart from competing recorders from Sony, Marantz, Tascam, and Edirol. For one thing, you can use the Zoom H4n either to record straightforward stereo tracks or as a 4-track digital recording studio. You can record up to 4 channels simultaneouslyusing the built in stereo condenser mic for 2 tracks and the XLR inputs for to more channels.
You can also plug the Zoom H4n into a computer via a USB cable and use it as an audio interface. In other words, when it's plugged into your computer you can connect a microphone, musical instruments, or other audio devices up to your computer. You can also use the built in mics. It's sort of like having an external sound card that doubles as a microphone and headphone jack. This feature can come in handy if you need to make a Skype call or record a few voice or music tracks on the go with a laptop.
The recorder also has a number of digital effects that can be used while recording or playing back audio. There's a metronome feature, a guitar tuner, and even a karaoke effect.
Zoom has added a new "stamina mode" as well, which the company claims will nearly double your battery life by providing up to 11 hours of record time using 2 AA alkaline batteries. It's not entirely clear what stamina mode does, but the only recording option in stamina mode is 44.1kHz/16-bit WAV audio.
The Zoom H4n can handle WAV audio sample rates from 44.1kHz/16bit to 96kHz/24bit. You can also record MP3 files with bit rates ranging from 48kbps to 320kbps.
While the recorder is larger than the original Zoom H4 or Zoom H2, it's still reasonably small and fits easily in your palm, unlike larger recorders such as theMarantz PMD661, Fostex FR2-LE, or Tascam HD-P2. Here are some close-up photos of the Zoom H4n (Click any image in the slideshow to see a larger version):
Here's a little video that should explain what I'm talking about. It shows both the new menu navigation and the problem with the SD card slot:
 Zoom H4N Review Video
Thanks For Visiting Zoom H4n Review