The Behringer UCA202 Review
This is the Behringer UCA202 Review of the popular low cost behringer uca202 usb interface.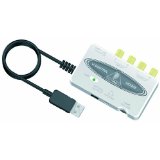 This is a Behringer UCA202 Review of the popular usb interface. The uca202 is a flexible usb audio interface that you can use to connect your instruments or mixer to your computer which will let you record and playback your music. The behringer 202 is not a top of the range audio interface but a low cost entry level interface which will give good results when recording your instruments. 
Even though it is an entry level audio interface
the Behringer UCA202 Review found it produced top of the range results.
And the reason for this is that the quality of this interface is high and you would of paid a lot more for just a few years ago.
Here is what you get with the uca202 behringer usb interface.
The UCA202 has high resolution 48 kHz converters which will give you high quality recordings. It also has a S/PDIF optical output which lets you do direct digital conversion. The uca202 Behringer has a stereo headphone jack with level control which lets you listen to the input as well as the output. This audio interface plugs into a usb port and does not need to be setup and does not need drivers to work so this is a easy to use interface which can be used with pc or mac computer. The Behringer uca202 does not need a external power supply as it receives power from the usb connection. You can also download free software from Behringer that you can use with the uca202.
The Cons
On a down side the uca202 only has RCA inputs which limits the connectivity of the interface. Although you can get around this with cables with RCA jack on one end and 1/4" jack on the other which will allow you to connect a guitar or microphone to the interface. The other option is the Behringer ucg102 which does have a 1/4" jack.
Conclusion
In this Behringer review we can say that this audio interface is a low cost high quality device for recording. The only draw back of the Behringer uca202 is lack of a 1/4" jack so you need a cable to connect your instruments to the device but that being the only draw back makes the uca202 a interface that you should put on your short list. 


In this review of the Behringer uca202 we highly recommend the Behringer uca202 usb for an entry level interface.
Thanks For Visiting The Behringer UCA202 Review