The Rode K2 Review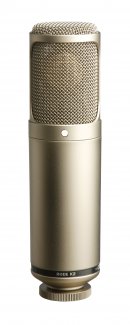 Rode K2 Review: The Rode K2 Has A Sound You Can't Simulate
There is an authenticity to any classic studio recording. It is the sound of a great tube microphone and the Rode K2 can achieve this so recording enthusiasts at any level can get authentic, tube-driven, studio quality recordings.
Leading publications like Sound on Sound and EQ Magazine have both said the K2 has a classy, detailed, and natural sound with an impressive value. The Rode K2 delivers professional-grade sound, features and versatility at a price that any recording enthusiast will find hard to resist. Rode K2 has the perfect balance of warmth and detail.
Features:
HF1 dual diaphragm capsule
Low self noise (10dBA)
High max. SPL (162dBA)
Wide dynamic range (150dB)
Continuously variable polar pattern
Class A valve circuitry
Dedicated power supply
Superlative class condenser microphone
Shockmount
Case
Power supply
30 ft. cable


The Rode K2 Review says the Rode K2 is by far the best microphones for under $2000. Find out why.

The Rode K2 has a warm, airy, smooth, and quiet simply amazing sound to it and creates a lush and airy with a touch of tube warmth that rounds out any harshness.
It has a big fat sound with a such a detailed high frequency response you would think this microphone is four times it's price.
When in figure 8 pattern the proximity effect on this microphone is similar to a ribbon microphone which is reduced as you dial it back towards omni then it fattens it up and rejects muddy reflections from the floor.
The variable patterns are the best feature of the Rode K2 as it allows you to dial in the precise pattern you want. If you put it in figure 8 at 90 degrees with the NTK you will have a fantastic sounding stereo set-up.
The Rode K2 sound is like Neumann U67 but cost a lot less the trick is to change the tude and we found that a Seimans tube worked great.
After changing the tube it has a nice deep, warm sound without the sibilance you usually get with other microphons in this price range.
The Rode K2 is absolutely perfect for vocals.
The Rode K2 won the 2004 MIPA award and was voted the Best Studio Microphone by 58 publications with its tube warmth and smooth sound. This is by far the best microphones for under $2000.
For the price the Rode K2 is one of the best microphones on the market.
And As Always Have A Nice Day
The Rode K2 Review
Thanks For Visiting 
The Rode K2 Review