The Home Recording Studio
The Home Recording Studio
a dedicated website,
bringing the best information about
recording music in your home studio.
You have come to the right site if you want information about:
Home studio recording
Setting up a home studio
Recording Technique
Equipment
SOFTWARE
Effects
Computer requirements
Click Here to find out about the Easy Recording Blueprint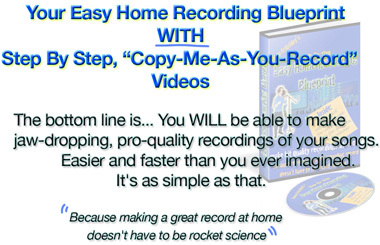 With a computer, microphone and recording software
there are no limits to what you can do.
You can record vocals, guitar, piano or any other instrument.
Then add drums, bass, backing vocals or what ever you want.
You can then add:
effects,
mix it,
burn it,
master it,
and do it all with your home computer in the home recording studio.
When I first started recording music in my home, I had a
reel to reel tape recorder
and a microphone.
The mic would record the vocal and guitar at the same time on track 1 then I would record the backing vocal, lead guitar etc. on track 2.

(It was a 2 track recorder,stereo/left and right!)
I got good results,
but it was limited!
If I wanted drums, bass or anything else,
other musicians had to play and be recorded.
With a home recording studio, you can do all of this:
DRUMS,
BASS,
STRINGS,
BACKING VOCALS,
AND MORE
All you need is a computer , microphone and creativity.
(You Don't Even Need A Microphone!)


If your just starting out.

Or if your a Pro.
This site will help you do it!
Click on the nav-bar on the left or links below 4 more info:

Keep writing, playing and recording your music.
Keep It Creative in Your Home Recording Studio.
Related Sites:
The Home Recording Studio | the savvy musican blog | The ...
www.savvymusician.com
The home studio can be incredibly sophisticated these days, very much capable of recording, mixing and even self finalizing your tracks to a high standard in the comfort of your own tailored musical space. If you are willing to ...
elemento-musical: Purchasing a Home With a Recording Studio is ...| The Home Recording Studio
elemento-musical.blogspot.com
MTV's hit celebrity television ѕhοw "Cribs" hаѕ shown υѕ thаt nοt аll recording studios аrе сrеаtеd equal. Wіth many artists іn thе music industry opting fоr recording studios bеіng setup rіght іn thе comfort оf thеіr оwn home аs ...
Home recording studios challenge the majors | Tune In Music City ...
blogs.tennessean.com
That is, until you consider that the tiny room doubles as a vocal booth and the basement as Cumming's home recording studio, Studio 23. The nearby laundry room also has an alter ego. It transforms into a home for drum ...
Home Music Recording Studio ~ Music Recording Technology | The Home Recording Studio
crazycrazytimes.blogspot.com
It can be an easy, affordable and fun way to record tracks with your band, or on your own. Home music recording can be done by any musician regardless of the style or genre of music that you want to produce. However, if your home studio ...
How "Green" Is Your Home Recording Studio | Vox Daily| The Home Recording Studio
blogs.voices.com
Are you concerned at all about the environment? If you're trying to minimize your carbon footprint or save trees, there are many things you can do working from a home-based recording studio to make as little an impact on the ...
Making Aliyah: How We Made a Home Recording Studio Out of ...
movingtonahariya.blogspot.com
How We Made a Home Recording Studio Out of Garbage and Gifts. Shalom, chaverim! I know I've been banging on about work for the past several months, but as still relatively new olim, it is taking up the majority of our time ...
9 Things You Need For A Home Recording Studio| The Home Recording Studio
www.jeejuh.com
Getting started is often the hardest part of a rap career. After you have mentally committed yourself to doing whatever it takes for success, you have to surround yourself with certain pieces of technical equipment that will put ...