Rode NT2A Review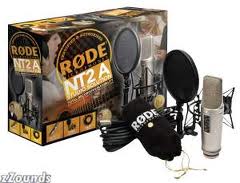 The Rode NT2A Review is a review of one of Rode's newest microphones. The NT2A is a professional large capsule (1 in.) condenser studio microphone with variable pick-up pattern,variable high pass filter and variable pad.
Three 3-position switches located on the mic body provide the freedom to step from Figure 8, Cardioid or Omni polar pick-up patterns; from a flat response to either 80 Hz or 40 Hz high-pass filter and a Pad adjustment of 0 dB, -5 dB or -10 dB attenuation.
Features:
HF1 1 edge terminated, gold sputtered, dual 5 um diaphragm capsule.
3-position variable polar pattern: Omni, Cardioid &Figure 8; all controlled on the mic.
3-position variable high-pass filter: Flat, 80 Hz or 40 Hz.
3-position variable pad: 0 dB,-5 dB or -10 dB.
Ultra low noise, transformerless SMT circuitry.
Wide dynamic range.
High strength heat-treated steel mesh head.
Durable satin nickel finish.
Internal capsule shock mounting.
Supplied complete with soft pouch and clip.

The Rode NT2A Review rates this microphone 10/10 find out why.
The Rode NT2A has a very flat, warm and full sound in recordings. It's has a smooth presence to it that makes it sound a bit like a Neumann 89 and you could say it is a Rode version of the U87 but is 10 times cheaper than the U87 and is perfect for every type of recording. The NT2A is probably the best Rode since the NTK.
Using the Voicemaster with this microphone you can go through the various stages of processors to get a very polished sound on vocals. The sound is amazingly pure. Very neutral.
The features are terrific. As stated before, the multi-pattern settings are silently switched and easy to operate
The Rode NT2A's build quality is solid, and
free from any housing noise, all in all excellent construction.
In the end the Rode NT2A is a superb microphone and probably the finest sounding microphone in its class but 10 times the cost. It beats the Soundelus U195 any day of week for vocals, its much better than AT series microphone much better than any SE microphone and it holds its own weight with much more expensive microphones. Best value in the market, no other microphone cost so little and is as good.
In this review we rate it 10/10. Go out and buy one today, you will be glad you did.
And As Always Have A Nice Day
Rode NT2A Review
Thanks For Visiting Rode NT2A Review