Home Studio Recording Software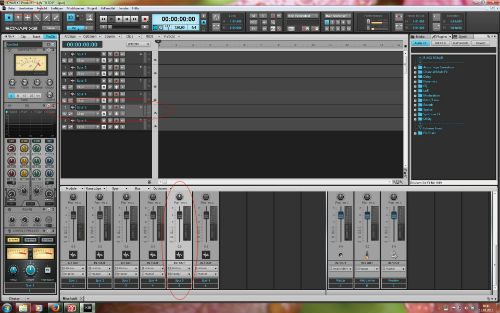 What home studio recording software do you need? Do you really need to buy loads of different software
for your home recording studio? Will one good software program have all you need to record music with your computer?
When you decide to record your own music you might think you will need a lot of different software like:
Soft Synths
Samplers
Effects Software
Dynamic Software
Mixing Tools
Mastering Tools
You can buy dedicated software that is built for a specific job like EZdrummer with software like Ezdrummer you can get great results but, you have to pay for that software.
Some of the software you can buy is worth getting and you will use often but, some of the home recording studio software isn't much better then what is included in a good DAW like Sonar, Cubase or Pro Tools.
Sonar comes with some of the best selection of software included and the software is of a very high quality.
Here is a list of some of the software that comes with Sonar x3:
Dimension Pro- real and synthesized instrument sounds
TruePianos Amber- realistic piano sounds
Guitar Rig 3 LE- guitar amp modeler
Roland V-Vocal 1.5- vocal correction and modeling
PX-64 Percussion Strip- 7 stage multi-effects processor
VX-64 Vocal Strip- 7-stage multi-effects processor
VC-64 Vintage Channel- channel strip, dynamics processor, EQ, and De-Esser
Transient Shaper- for transient dynamics
LP-64 EQ- linear- phase Equalizer
LP-64 Multiband- linear phase mastering compressor/limiter
Boost 11- peak limiter
TL-64 Tube Leveler- line driver/ leveling processor
Z3TA+- Waveshaping synthesizer
Rapture LE- wavetable synthesizer
Roland TTS-1 16 channel multi-timbral GM2 instrument
DropZone- Drag and Drop Sampler
DreamStation DXi- Classic Analog modelling
Sonitus- Dynamics and Effects Processors
As you can see from the list, with Sonar x3 you get a selection of software to record, apply effects, apply dynamics, mix and master your recordings and what I have listed isn't all of the software that is included in Sonar x3.
If you choose a different DAW like Cubase or Pro Tools you still get enough software included with the program to create pro recordings with your home studio recording software.
After you have used the software included with your DAW for a while you will know if the software suits your needs and, if not, then you can look at upgrading to dedicated software that is built for a specific job like reverb, compressor, eq or dedicated mastering software. 
Thanks For Visiting Home Studio Recording Software